Interpine operates a range of thermal sensors on our fleet of UAV's (Unmanned aerial vehicles).   Just a quick look at some of the sensors and their capability.
Thermal Infrared Sensors
The DJI Zenmuse XT2 sensor (shown above on our Matrice 210 RTK Drone), is a FLIR Tau 2 Advanced 640×512 30Hz 19mm focal length sensor, paired alongside a 4K, 12MP Visual RGB Camera. This is a top-of-line thermal sensor within what is available in the commercial space and is even an export-controlled thermal sensor from FLIR.   With advanced IR, the sensor is factory calibrated for extra confidence in the thermal sensitivity. Seen above on our DJI Matrice 210 drone, this also operates on any of our DJI Enterprise drones with changeable gimbal mounts.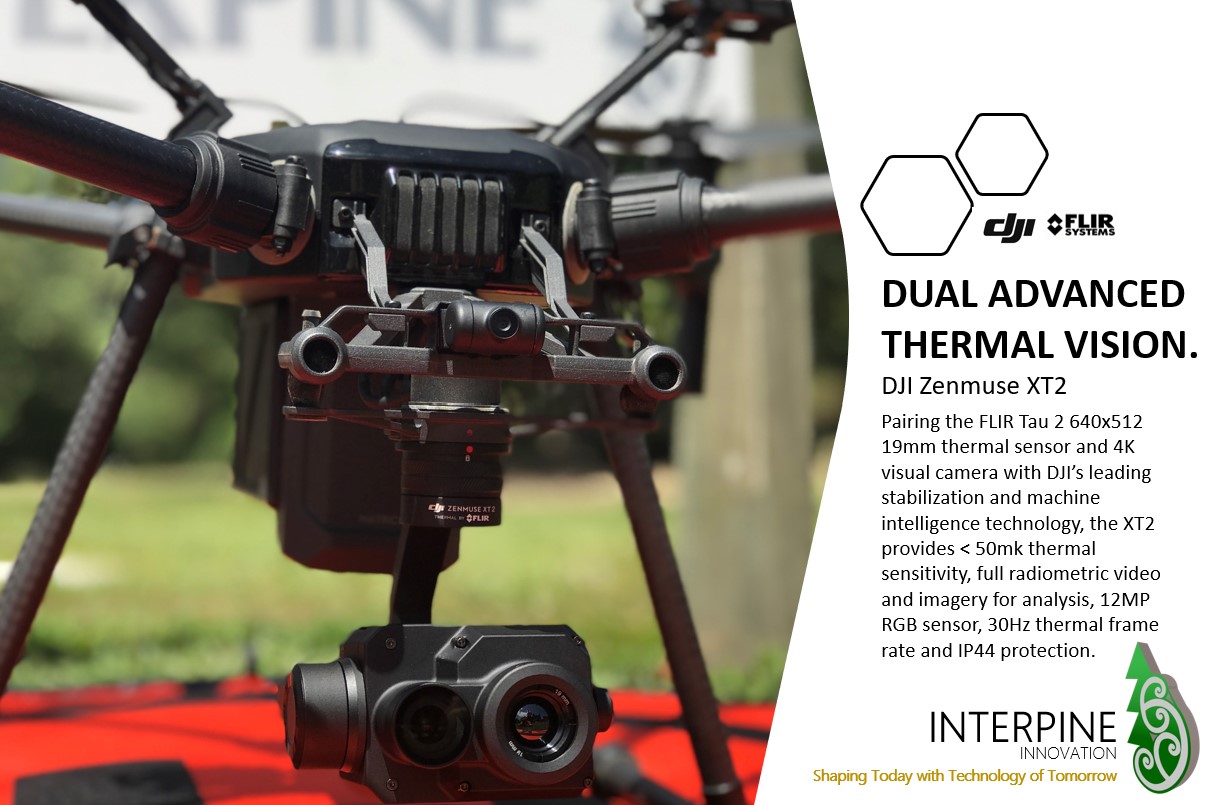 Alongside this, we also operate the DJI Zenmuse XTR 640×512 30Hz, with a 13mm focal length (slightly wider field of view to our XT2).  Again this is a FLIR Tau 2 Advanced sensor, but unlike the XT2 is only a thermal sensor.  It can then be paired on our dual gimbal-mounted drones (dual camera mounts) with any of our other sensors just as the DJI Zenmuse Z30 which provides RGB visual camera with 30x optical zoom capability. Seen below on our DJI Matrice 600 drone, this also operates on any of our DJI Enterprise drones with changeable gimbal mounts.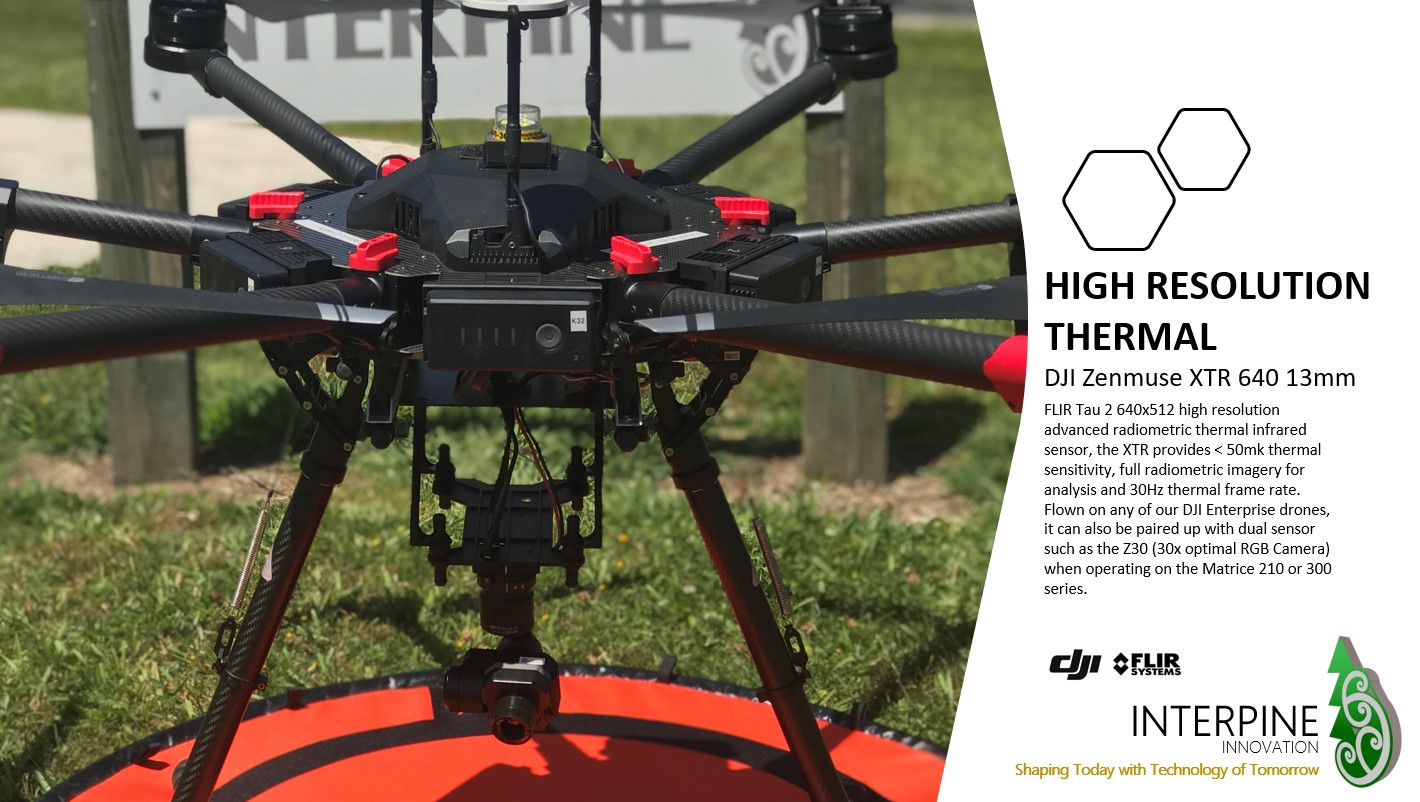 We also operate the DJI Mavic 2 Enterprise Dual Thermal RGB Sensor.   While this thermal sensor is much low resolution thermal at 160×120 pixels, the Mavic 2 provides a robust drone with all-round obstacle avoidance that can be flown in challenging tight workspaces or easily carried into rugged locations as the drone packs up into a small case that is easily transported in a backpack.   Together with spotlight, speakers, and navigation light accessories, this provides a unique capability in a small package.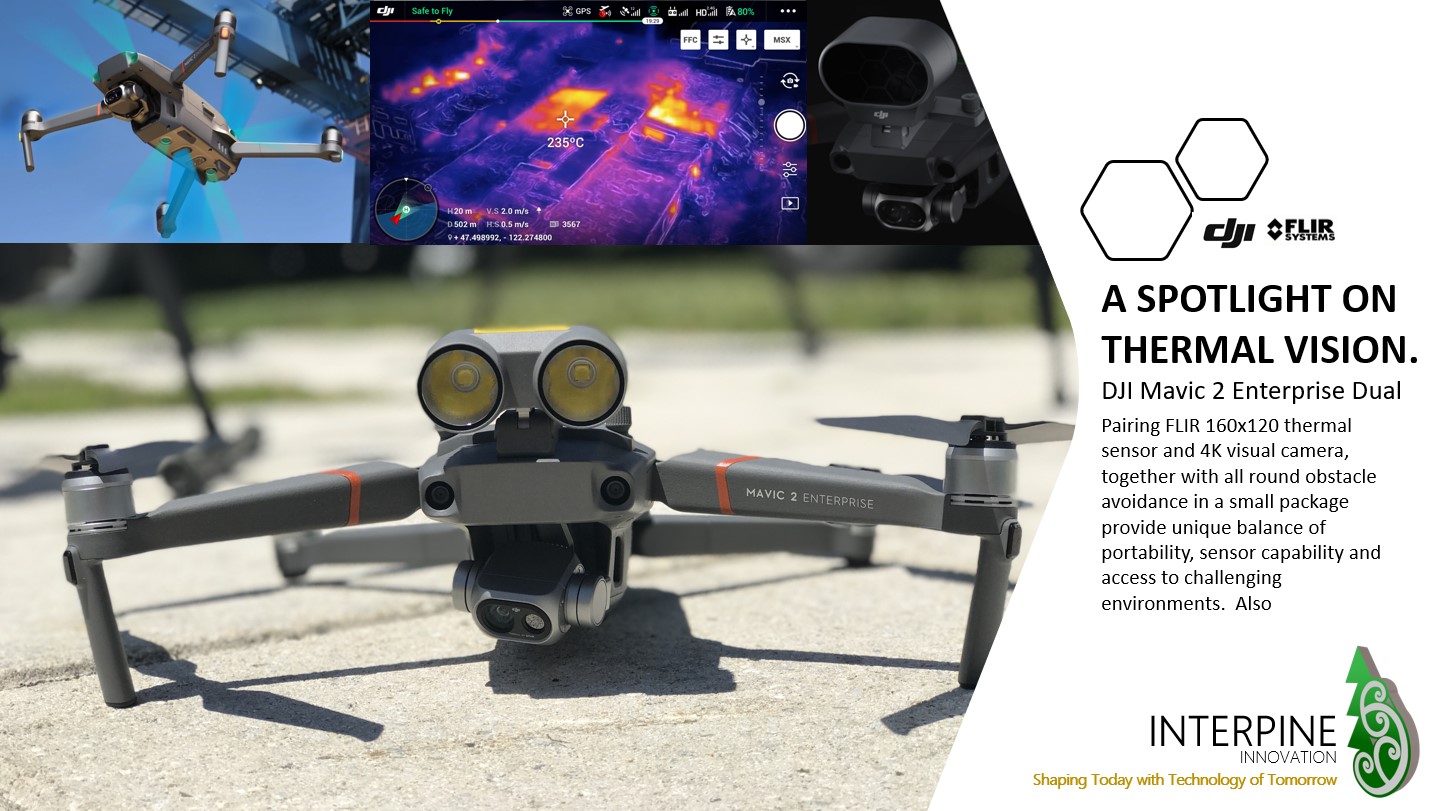 Analysing Thermal Infrared Imagery and Video
Tools to analyse the thermal imagery and footage collected using these camera's is available from FLIR.  FLIR Tools is a software package which is available on a free and paid license.   The free license only requires users to register with FLIR and is excellent for our clients who receive footage from us and want to be able to review temperature information for their own analysis.  Our sensor can collect both radiometric images and video, meaning you can collect a video monitoring flight over an area of interest, and use FLIR tools is freeze-frame and do any spot temperature metering for comparison.